Are guest posts still relevant?
I went straight to the question, right?
Let us be honest. The vast majority of you who have landed on this page from any of the search engines, want to know the answer to the question above. There is a follow up question to this though.
If guest posts ARE still relevant (and you assume they are), how to get it right?
Bingo.
I feel like I am a mind reader.
Actually, it is fairly simple. What I did is, I have created this post to do the following –
It is very niche
I asked myself the above two questions and wrote with that intent in mind. Today's search engines are built in such a way that INTENT (AND CONTENT) is king.
It covers pretty much everything on guest posts. You truly will not have to go anywhere else to get this information. I assure you that I have done all the research there is on this subject for you.
HISTORY of Guest Posting
Guest posts have been around long before there was Internet. There were newspapers, journals, magazines and other periodicals that always carried posts by distinguished guests. Even today, there are opinion pieces in newspapers that are valued.
HOW IT WAS
Guest posts truly began to catch up in the blogging era, about post 2000. This was the time when blogspot (later blogger) and WordPress began to surface. A few writers gained a good following. They invited other folks of repute in their niche and asked them to write in their blogs. Those were simpler times. The bloggers were rarely the ones who made much money.
Enter AdSense and other monetization platforms. Once the bloggers' followers reached a critical mass, THEY were the ones calling the shots. Other content creators who wanted a piece of the pie would request to be allowed to post as a guest.
The caveat?
There would be multiple links to the guest's site.
If they were endorsing some product, they would put those links in too!
It still worked out okay. Even though the quality was often not great, at least it was content. It did not hurt since the search engines only saw the quantity of content and not the quality of it.
Things changed after the Panda update hit.
A lot of the established bloggers saw their domains not being ranked as well as before. Content quality and meeting intent became more and more important. Now guest posts are required to be of the same (if not higher) quality compared to the host blog or website. Most links are usually nofollow and there are no merits for overpromotion.
This is horrible for the guest posters. Sure.
Who does it benefit?
The person who does the search. You have an intent. Your requirement is met when you find the right page. If the search engine directs you to a site that is spammy, you are likely to switch to a different search engine.
Who loses then?
The Search engine company, of course.
Google or Bing search engines are advertisement platforms largely. If you don't stay on the search page, you are unlikely to click on any of the Google Ads. This means they lose money.
This was important. As it still is now.
Check below this clarification below. This shows even natural links should ideally be nofollow.
This does not hurt because regular readers will still find the links and if they (humans) find them relevant they will check these links out. However, search crawlers don't like these links anymore.
INTENT becomes King
In 2019 October, Google announced they were using BERT models to their search engines. Like I mentioned before, the objective was to make INTENT the most important factor in ranking pages in results.
Before writing, think about what is the person I want to reach trying to accomplish? Perhaps they need an answer to a question, find an item, or find a guide or tutorial to help them complete a task. You need to determine the intent of the person that will be reading it and provide any and all information needed to match their intent.

SEMRUSH
It all started with the first post by Matt Cutts in his post on guest posts.
This is what he said (below). It really rattled the industry back in the day.
Okay, I'm calling it: if you're using guest blogging as a way to gain links in 2014, you should probably stop. Why? Because over time it's become a more and more spammy practice, and if you're doing a lot of guest blogging then you're hanging out with really bad company.

Matt Cutts
John Mueller also hinted at something like this around 2013 and basically nofollow-ing the links. Ever since there has been a decrease in guest posting in general.
Matt did however edit this original post sometime later to clarify – he was not against guest blogging but that guest blogging was unlikely to be useful for SEO purposes.
HuffPost killed their guest posting and contributing platform sometime in 2018. This was a big move. Huffington Post had a thriving community and their contributor program was a major hit. It also accounted for an average of 10 to 15 % of their net traffic.
This brings out the most important question there is.
WHY do people do guest posts?
Pros of guest posting
There are still major benefits to guest posts. Some of these are: –
Build a profile or establish yourself as a business leader in the niche
Build relationships and create new partnerships
Grow an engage with a new audience and enhance your social media presence
Grow a brand
Convert the existing audience to possible customers
Build referral traffic
WHAT can you not do?
Improve SEO performance
Build backlinks – Okay. Granted, you can still do this, but there is a subtle way of doing this without being absolutely in your face.
Note what I wrote in the last sentence – "in your face".
Pretty bold right?
Remember the pesky credit card or insurance telecallers who bother you with their offers EVEN when you make it absolutely clear that you want them?
The Content Marketing Institute makes this very clear in this post.
Unsuccessful prospective guest bloggers act like door-to-door salespeople. They knock on as many doors as possible, delivering the same pitch and hoping at least a couple of people say yes.

Successful prospective guest bloggers act like invited guests who show up with a nice host gift. They knock on one door, follow the submission guidelines, and deliver a personalized pitch.

CMI
Okay, so how much traffic does a guest post get? And how much exposure can the author get from that?
We can answer the first question – check this research from ahref on guest blogging at scale. The post also goes into detail as to how you can create your guest posts.
Question: What are some of the todos to do guest posting then?
I will get deeper into the topic and explain, but if you want to have it in a nutshell here it is.
Only do guest post on site if you are okay with no links back to your site! If you ask why, you should not do guest posts at all. The objective of posting as a guest is to check the above and not getting backlinks.
If you are adding a link, it MUST add content and be relevant.
If you include links to your site, you must have links to other relevant sites as well. You are NOT promoting your website only.
The link in your author info is absolutely fine.
As the CMI puts it below,
By following the five steps – purpose, prospect, pitch, publish, and promote – your first and future knocks at the site's guest blogging door will be greeted with acceptance and maybe even enthusiasm. As John Huntinghouse of TAB Bank says, "Build a relationship, add value to the publisher first, and you'll be golden."

Huntinghouse, J (TAB Bank), source from CMI
Of course, these above are kind of open ended. I will explain them in detail below.
How to find great guest blogging opportunities?
Hmm.
That is a tough one.
Here are a few ways. You can innovate / add as you go. Just ensure the DON'Ts are followed as you create content.
Use a Google Dork like intext to get what you want.
For example, you search intext: submit guest post and find the results.

This is not super helpful but you get some good leads.
Use Google Reverse Image search to find places writers you follow and where they have posted. This is a hit and miss but may give you good results.
There are good lists of websites that still allow guest posts, albeit these are moderated (as they should be). You can find this here. Yes, this list has only 11 sites named – but in this case – less is more. Quality is far more important than quantity.
NOTE: Make sure that the blog that you are posting to has a higher domain authority than yours. You can check the domain authority on Moz or ahref (domain rating).
If a more comprehensive list attracts you, check this list of about 300 sites that accept guest posts.
Alternative views on Guest Posting
I will be doing a terrible injustice if I don't mention the lack of consensus on what is okay and what is not when doing guest posts.
Building backlinks is okay when Guest posting
It is not much, but still there is ONE major point where Neil Patel differs from what Google claims (or claims to claim).
The major point is that he believes creating backlinks is ALSO OKAY when you are doing guest posts. And they have gone to great lengths to demonstrate how it is supposed to be done.
Neil, for example, says that building backlinks is fine as long as it is not the priority. It kind of makes sense and subtly promoted his own tool (lol).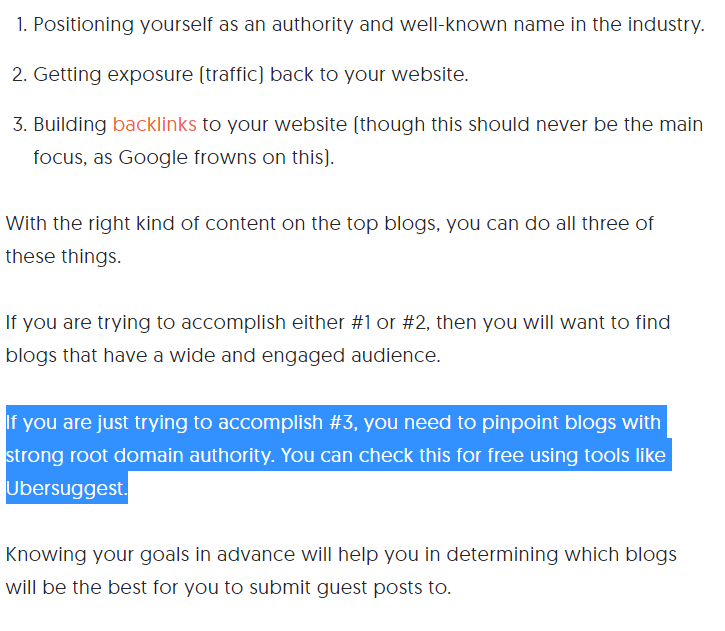 NOTE
This is a bad idea. Neil can probably get away with this since he has a massive following and is an authority. If you are getting started, you might be better off without it.
Why? Here is proof.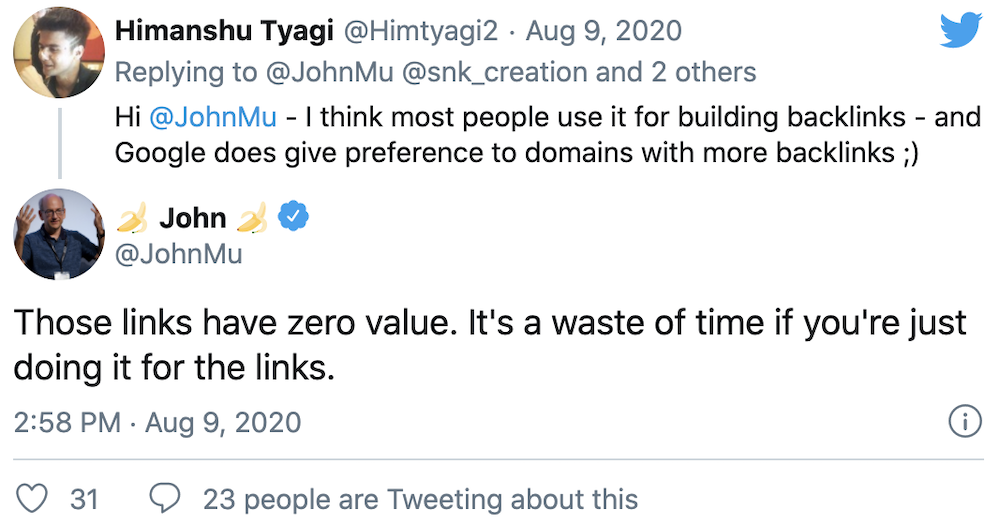 This should rest all debate.
Should you not include your links?
No. Your links are fine (if used in moderation) but just don't expect them to increase your domain authority.
Creating templated messages to established content creators for allowing your Guest Post
This is where it gets tricky.
Here is how it plays out.
You have done your due diligence and you want to adhere to the guest posting etiquette to the letter. You have identified a list of (say) 50 blogs or websites whom you want to write a pitch to – requesting them to allow your guest post.
SEMRush is a pretty big name in the digital marketing industry. They are of the opinion that this is a bad idea. A personalized approach is what works, they say. In my personal experience, I have seen this work better as well.
Often, a template email comes across as disingenuous, and it seems as though no effort to understand the blog has been made.

SEMRush
This is somewhat different to what Brian says from Backlinko. He is also probably the most famous and effective voice in the SEO space. He says templated emails still work and even goes on to provide an example for the readers to use!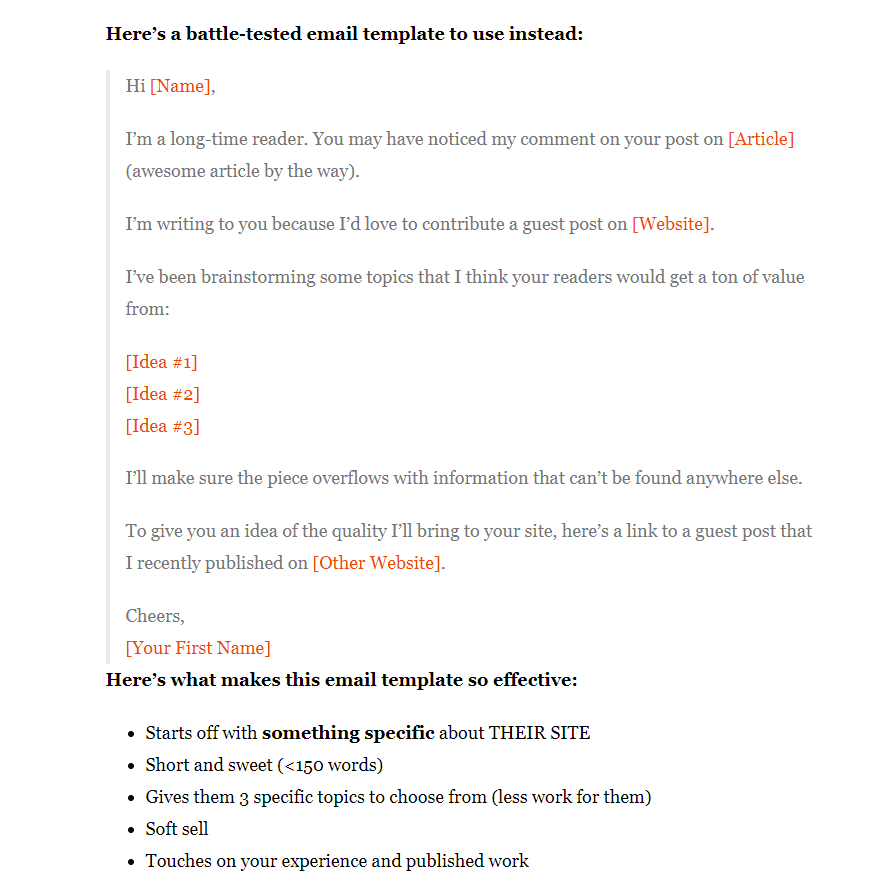 Sure, he does provide enough variation and room for you to personalize the messages differently. But imagine you own two or more similar online businesses and you get identical mails with content like this above? What will you do?
I know what I will. Unless I see it is from Brian Dean (Backlinko), I will delete the mail right away and block the sender.
What is most ideal? I am not sure, but I am inclined to think a genuinely personalized approach works better by showing the recipient that you are actually interested in reaching out and you have truly been 'brainstorming some topics' as mentioned in the quoted picture above. This is still better than the mail merge mails. But still, I prefer a more personalized approach. There are tools that can help you in this. Manual effort also is fine (if you can afford it).
How to create, publish and manage a great guest post?
Now this is going to be epic.
THIS is going to be so good that website owners can actually refer to this as a checklist when screening guest posts.
So here it goes. There will be steps and this might be a bit long, so please take your time. I will summarize everything in the end.
Write mail / personalized pitch
Okay, this I have covered before.
But I will give you something more … customized.
This is not perfect, but should do the job.
You should keep a repository of a few templates and change some content for each of the recipients. Using a completely templatized approach is not how I roll. You can do what you wish, but check how the performance of your email
NOTE
Do Keyword research, but don't go overboard
Keyword research in general can be a chapter of its own. I will not go into great detail here.
So, let's check with an example.
For example, you want to write something about guest blogging. The keywords for this would be the following –
Guest post
Guest posting
Guest blogging
Guest blog post
And so on.
Let us take the 3rd one here for the demonstration.
There are plenty of tools out there. I will use Neil Patel's Ubersuggest. The free version will suffice.
Here are the crucial metrics – web pages that rank in the top ten search results have (on an average) 615 backlinks and a domain authority of 79. That is pretty high.
This is not surprising. Let's see the posts in detail.
This is interesting.
The term "guest blogging opportunities" has got a much lower difficulty and great volume!
It is MUCH MORE LIKELY that if I write a post with that keyword, I will do better in search results. Even if I run AdSense ads for those same keywords.
Great.
That is how it is done.
You should do more, though. Check out some of the pages that are ranking well for the same keywords.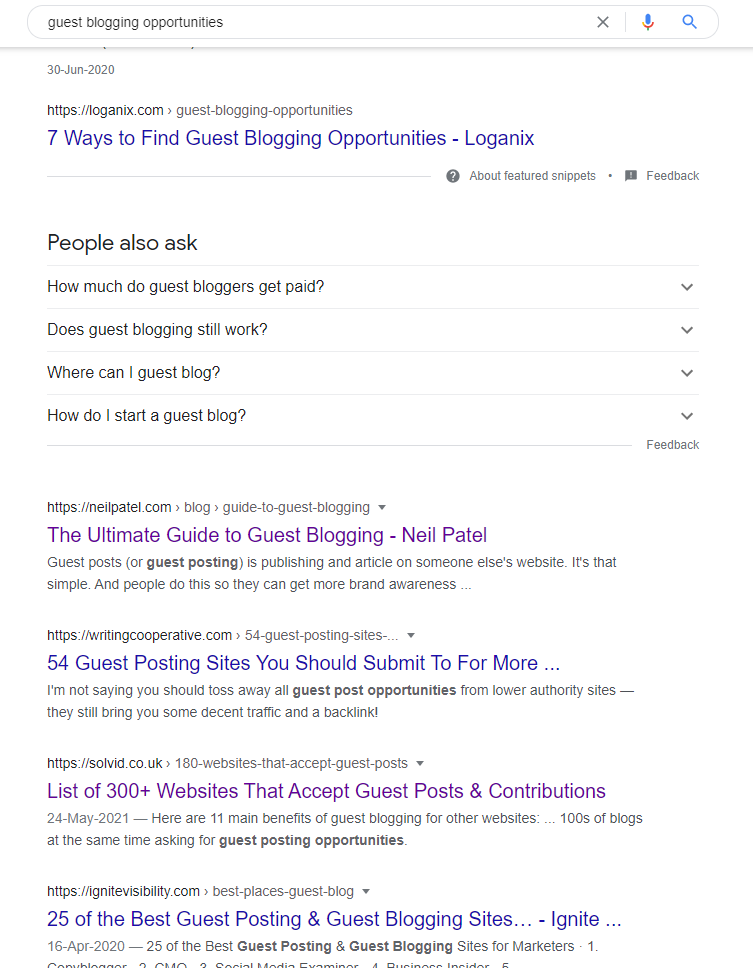 Ah well! Neil Patel comes on top. Got it. But there are other posts that are listed as well. Go through a few of them and check how they are and what you are up against. If you feel you have something MORE to offer, go ahead and put it down into words.
If not, look elsewhere. 🙁
Seriously. If you see that the content is already top notch and there is NOT much you have to add that is unique (AND you are not Brian Dean) – LET GO. Check out other keywords that are less competitive.
Sounds hard and tedious. But that is how it is. Blogging and publishing is super competitive but put yourself in the shoes of the user. If you find everything in Site A for a keyword, will I go to Site B for the same query?
That said, there are ways to add value to existing posts. I will come to them here below.
Read on. 😊
Of course, there are other tools that will help you – all free, of course. It does not make much sense to pay for keyword planners when there are great free options.
Welcome, Google Trends.
Granted, it was not built for keyword planning in particular. But it can be used for it. I covered a research post using it.
Also, Google search console is great for researching keywords. Covering HOW to do it is a separate topic – things will have to be detailed out a lot.
But if you are getting started, do this.
Do your preliminary research with Ubersuggest and jot down 3 keyword ideas
Punch these in Google Trends or the Search Console (the latter will be better) and see which ones perform best.
Write your Guest post
How you write your posts is how you write. Everybody has got their own touch. And that is the way it should be.
However, here's how you can add more value to your posts that you write specifically for your Guest posts.
The Splintering Method
I am not sure who first made this term up. But to sum it up – imagine this scenario.
You have written a huge post covering any topic on your website or blog. Now you want to write a detailed one on of the sub topics.
For example, your parent topic is "Everything about Guest Posting".
Now, that has a sub topic by the name "Engage and Manage responses for Guest Posts".
You have certain advantages in posting this to another blog as a guest writer.
You have
Already done the research
Know their niche. So, you can customize it better to suit your (now modified) target audience.
Explain in more depth
Link back to the original article / post without being spammy or intellectually dishonest!
This should not take much time since the most expensive step (research) is already done.
Improve Existing Content (covered in other blogs)
This is not for everyone. But it can be extremely rewarding.
For example, you read about a great post about the new Mac laptops and you have your unique contrarian position to the same.
You can either create a post in a similar niche as a guest writer rebutting it OR you may even add points that you think the original author may have missed.
The trick in getting this done right is to ensure you select posts written in GREAT journals – posts that are written by hundreds of thousands of readers. What you create is basically a funnel. 

Tweet
If a hundred readers read the original post, about five of them may go ahead and read your post that details or rebuts the previous one. Over time this may increase if you have provided greater value that the original post.
That is the objective though.
Over time you may even add or update the content that you had published months or even years back! This is called a content upgrade – though not essential, but does show the people (and the search engines) that you care.
The people may not, sure, but the search engines will. Typically, posts that are updated more often do get better traction.
Include a proper Guest Bio in your post
This is not being sneaky.
In fact, this is the only place where I would recommend putting a direct link to your website. There are no great ways you can go wrong here, as long as you don't go overboard.
Include a link to your website. This can be a simple hyperlink – even a no follow link should be fine. Remember, you are writing for people not search bots!
Include social profiles – Keep the ones that you regularly track. If you are not active on snapchat, might as well not put it up.
Include a descriptive concise bio – what you do and where and for how long can be a simple way to do it.
Configure a custom landing page for your readers from a guest post if that is a particular niche you wish to reach out to.
For some examples of Guest Author bios, do check this. Remember to strike a balance between detail and self promotion!
Engage and Manage with readers
The first step is to write the post.
Once you have done that, the next step would be to ensure they are promoted well.
You can do that on your social handles. But I am guessing the blog or space owner will do their own promotions as well.
Which brings us to engaging with the audience.
Update old content (like this post)
Managing we have covered in the previous post. You basically keep your posts up to date. There are old links that are broken that needs to be fixed. There will be details which will have to be pruned, sources added, notes inserted and so on.
Additional research and information are always welcome. People do find this useful, especially if they are returning visitors. Search engines also take note of this.
Engaging with the people is more difficult but necessary
On your social media handles this is easier, since you will be tagged. However, on your host blog platform, comments may not give you notifications. You can either ask the admin to add you to the Contributor or Author list OR keep track manually every once in a while.
And this is necessary. You will NEVER find a single blog page on the first page of search results that has no comments or engaging conversations.
Also, you CAN thank your host platform as well.
Send them a thank you note and mark them on Twitter or any other social media channel you have a good following in. This shows your genuine appreciation and increases the chances of recurring engagements in the future.
Check this screenshot below.

Impact Analysis of your Guest Posts
Some elementary tracking will be necessary after you publish your post.
This will help you understand how well (or not) your efforts are paying off.
The easiest way that costs you nothing is to go to Google Analytics Advanced segment and choose the source for the traffic.
Here is the navigation in case you are wondering.

You go to Google Analytics – Acquisition – All Traffic
Then click on "Add Segment"
Click on "New Segment" and then Apply.
Scroll down to the Traffic Source tab and add the source that you wish to and then click Apply.
You will get the analytics for site visits from the particular source. This is neat and should be sufficient.
Conclusion
This is it, really.
Of course, this post is now over 3500 words long but it covers pretty much everything that needs to be said about Guest posting. I did this research covering tens of websites that happen to be authorities in this domain so that you don't have to.
In the end, it is obvious that your experience may teach you stuff that I have not been able to cover here. Or even if you wish to know more about any topic or details or feel that I have put our data that is plain incorrect, please do let me know in the comment section.
Hope this post helps you create super useful and engaging posts in the future. Good Luck!